Thatcham Kitchens' showroom… redesigned!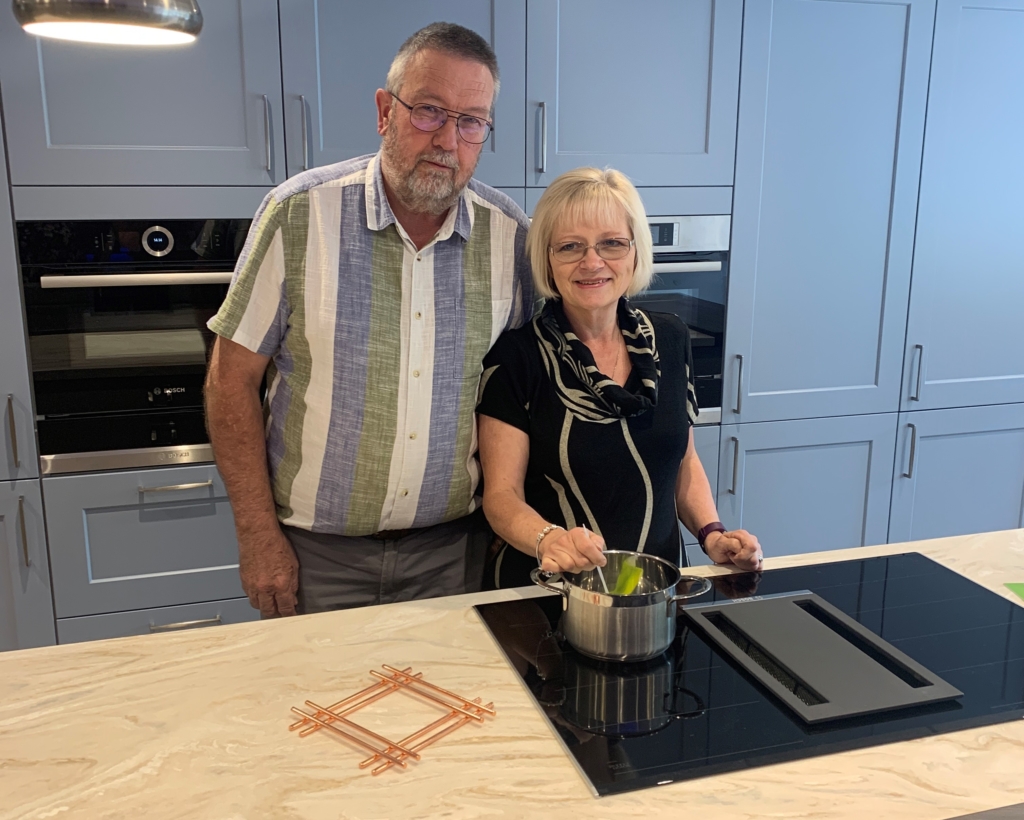 It's been non-stop here at Thatcham Kitchens the last couple of months (we aren't complaining!). Great things have been happening inside and outside of the showroom, including exciting kitchen builds for our customers, the launch and success of our first Supper Club and of course our Berkshire kitchen showroom refit! Our kitchen showroom on Thatcham Broadway has been completely redesigned and we can't wait to tell you all about it…
Lasting impressions
As you may know, first impressions last. We want customers to feel excited with what they see when entering the showroom and inspired for their own dream kitchen.
With the refit having been in the pipeline for a while, we decided it was time to bite the bullet and set the process in motion and you can be sure the results are worth it. Take a look below and click the images for full view plus extra information!
—————————————————————————————————————————————–New elements
The showroom, aka the Tardis (it seems to have tripled in size since the refit), has been redesigned with many new elements including a large island in the centre of the room, multiple smart storage solutions and a light up wall feature that showcases the different options for your cupboards, islands and floor – you name it! Click images for more information.
——————————————————————————————————————————————————————————-Customer feedback
We recently held our very first Supper Club and the attendees had great things to say about the redesign:
"I like the new showroom very much. I commented to Kevin that in a lot of kitchen showrooms you often see empty carcasses or non-connected electrical items. Here you have fully functional displays which is excellent. The island in the middle also provided a good demonstration area."
Another said:
"It looks professional but is still a very social area. The showroom gives a good idea of what someone's dream kitchen could look like – lots of ideas."
Owners Caroline and Kevin are over the moon with the results of the refit and can't wait to see how other customers react to the new showroom and how it will benefit the business.
Bosch smart kitchen
As the local Bosch dealer for Newbury, Reading and Thatcham, we have some of the latest Bosch kitchen appliances in our showroom, ready and waiting for you to try out in person. What's more, we've been awarded 5* expert status by Bosch, so you can rest easy knowing we are the trusted choice when it comes to upgrading your kitchen appliances to the latest technology.
If you would like to see the new showroom and test out the Bosch smart appliances, then why not come to our next Bosch demo day? This will take place on the 2nd of November – contact us for more details.
Keep your eyes peeled for a brand new 360° tour.
Visit our brand new refitted showroom on Thatcham Broadway. Our Berkshire showroom demonstrates a range of creative kitchen design ideas, so until you manage to pop by and see us, take a look at our Pinterest, Instagram and Facebook to stay inspired.