Steam cooking: superb technology for the finest flavour
In recent years, steam cooking has been overlooked in many household kitchens, perhaps conjuring up memories of soggy broccoli and floury spuds. But with the invention of steam ovens, this healthy and convenient method of cooking is having something of a resurgence.
The Bosch Serie 8 CSG656BS6B steam oven is one of the new appliances helping to bring steam cooking back into the homes of today and we're here to tell you how to make the most of it…
Conventional steamers vs. steam ovens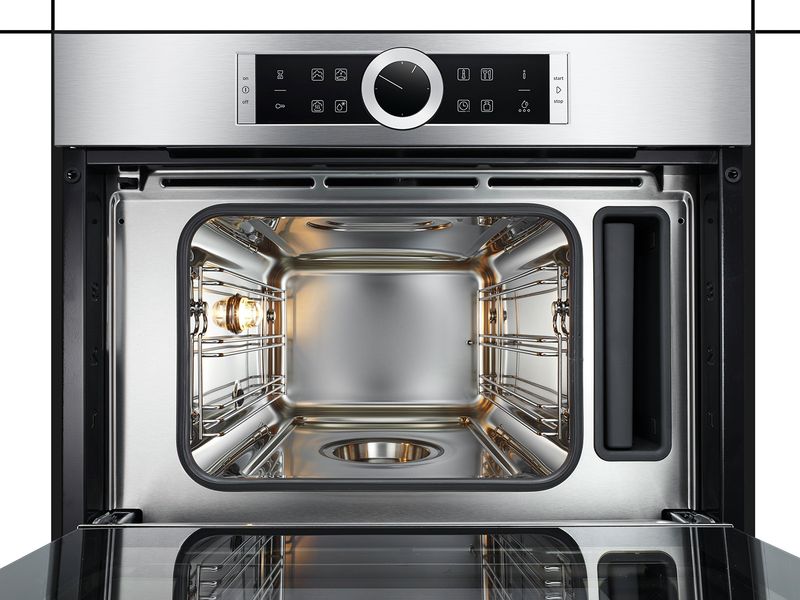 You may be wondering what the difference between a steamer and a steam oven is and why it's worth investing in the Bosch Serie 8 CSG656BS6B steam oven.
A steam oven simply cooks your food with water vapour. This means your food is prepared gently and retains all the flavour, vitamins and minerals which can sometimes be lost through standard cooking.
With the Bosch steam oven it has its own water container so therefore does not need a separate water connection. Additionally, as well as the benefits of a standard steamer, the cooker allows you to bake, steam or both at the same time – using gentle water vapour and a hot air supply.
The benefits
The Bosch steam oven is ideal for anyone who prioritises the taste and nutritional value of their food i.e. most of us!
With gentle steam and the optional addition of hot air, this Bosch cooker will appeal to:
All foodies. The gentle steam allows the flavours to develop fully. Thanks to pre-set automatic programmes, you can prepare up to 20 dishes perfectly. In particular, the innovative combination of steam and heat means it's easy to prepare roasts that are juicy inside and crisp outside. Plus, you can cook on three levels at the same time without the cooking smells from the various dishes mixing
Health enthusiasts. Whilst maintaining all the nutrients the steam means there is no need to use additional fat
If you're an avid baker then this oven could change the way you bake cakes. Whilst cooking with the hot air, the option of using steam allows for a much moister sponge
Easy & practical (with no deep cleaning!)
Deciding who's going to do the washing up is less of a headache with this appliance. The Bosch steam oven feature EcoClean Direct makes sure of this – so you needn't worry about the mess as a special coating automatically absorbs the grime meaning no deep cleaning is necessary! The water tank is easy to remove and top up and the automatic descaling programme will save you time and money spent on descaling products – especially useful if you live in a hard water area.
Additionally, with the smart feature of DishAssist, the optimal type of heat, temperature and time for countless dishes is already pre-set – genius!
Reassurance from Bosch:
"To make sure that our kitchen equipment is there to support you reliably for as long as possible, we have only used the best materials for it. The interiors of our steam ovens are made from the finest high-grade steel and are guaranteed stainless"
As a Bosch 5 star expert, at Thatcham Kitchens we have all the knowledge necessary to talk you through the many benefits of the steam oven in person and show you how to use it. You can buy Bosch appliances on their own or as part of a kitchen redesign, directly from us.
To see the Bosch Series 8 for yourself, visit us on Thatcham Broadway. Don't forget to follow us on Facebook, Twitter, Instagram and Pinterest for more inspiration and ideas.