Keep it local – with a Bosch 5* expert
If you're looking to buy Bosch kitchen appliances, there are many places to purchase from. Online is the first place many shoppers go but that can feel daunting due to the hundreds of options available. You may find a bit of googling raises even more questions than it answers…
So, where do you start? Which appliances cater best for your needs?
Experts close to home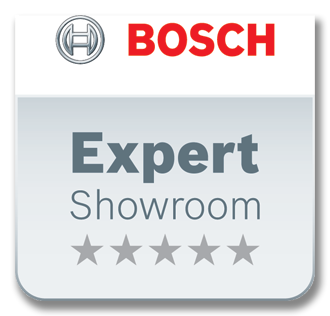 As the local Bosch dealer for Newbury, Reading and Thatcham, here at Thatcham Kitchens we have some of the latest Bosch kitchen appliances in our showroom, ready and waiting for you to try out in person. What's more, we've been awarded 5* expert status by Bosch, so you can rest easy knowing we are the trusted choice when it comes to upgrading your kitchen appliances to the latest technology.
As a family run business, it's important to us that we deliver the very best knowledge and advice to our customers to ensure you make the right decisions when it comes to your kitchen and appliances.
To help further, we have an informative 'Kitchen Discovery' booklet for you to complete at our showroom that allows you to consider what you want to get out of your kitchen appliances – and which gadgets and gizmos will suit you best.
Why not attend a live cooking event in our showroom to see Bosch appliances in action? Keep your eyes peeled for upcoming events.
Solely Bosch
Unlike many other kitchen showrooms, we have decided to specialise in Bosch kitchen appliances only so we can be experts in our field. So, if you've watched online videos about how to use certain kitchen appliances and still have questions  – then we can give you the personal experience and bespoke guidance you need.
From induction hobs and steam ovens, through to Wifi enabled fridges and integrated coffee machines – we can show you specific appliances to suit your needs. Whether you love to bake, entertain at home, or you just love to have the latest shiny kitchen appliances on display – we can ensure you get the best match, for a fair price.
Best service, best price
We can all be a little misguided that the best deals can be had via the web, but that is not always the case. Here at Thatcham Kitchens we aim to provide a competitive price everyday of the year, with regular offers along the way. Accompanied by customer service second to none, you're in safe hands with us.
For a hands-on experience visit Thatcham Kitchens, your local Bosch dealer. Don't forget to follow us on Facebook, Twitter, Instagram and Pinterest for inspiration and ideas.