Make flipping delicious pancakes this Pancake Day
Same old pancake recipes leaving you feeling a bit flat? Make more exciting, delicious pancakes this 25th of February with our Bosch recipes and tips and tricks.
We're here to provide you with a variety of Bosch recipes to suit all taste buds, from simple to zesty, thin to fluffy… make this Pancake Day your best yet!
Ricotta pancakes with orange-maple syrup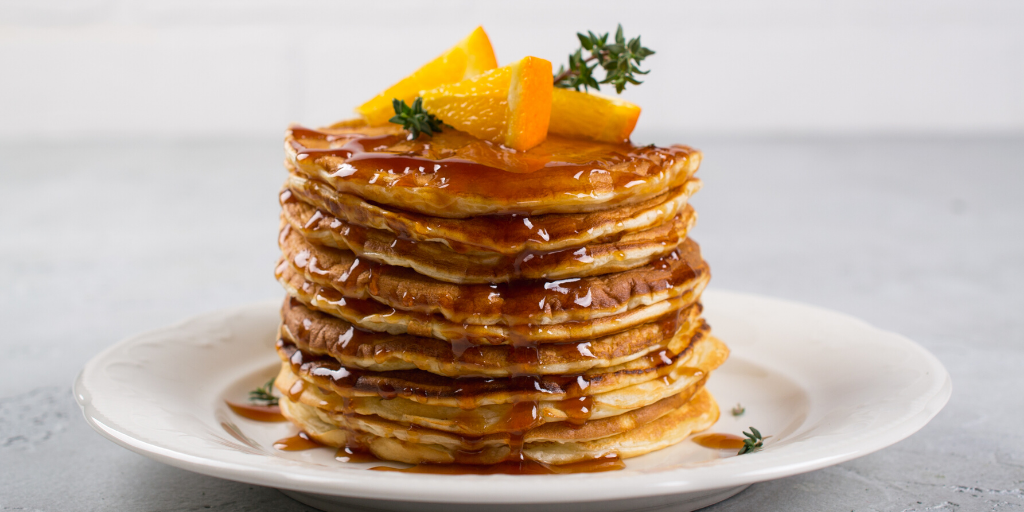 Orange maple syrup ingredients:
2 oranges
64g of pure maple syrup
2 tablespoons of unsalted butter
Ricotta pancakes ingredients:
128g of fresh whole milk ricotta cheese
4 large eggs (separate yolks and whites)
1 teaspoon of sea salt
170g of all purpose flour
2 teaspoons of baking powder
32g of sugar
96g of buttermilk
Unsalted butter (for pan when cooking pancakes)
Preparing the orange maple syrup:
Use a fine rasp grater, grate zest of oranges into a large bowl and set aside to use later in pancakes.
Cut away white pith from oranges with a sharp knife. Working over a bowl to catch any juices, cut oranges between membranes to release segments and set aside. Squeeze remainder of juice from membranes into the bowl of juice.
Heat a small frying pan on medium heat. Add your maple syrup. When it begins to simmer, whisk in orange juice and butter. Simmer over medium-low heat for 5 minutes or until mixture thickens slightly. Remove from heat and cover to keep warm whilst you make the pancakes.
Preparing the pancakes:
Grab your bowl of orange zest and whisk in the ricotta, egg yolks and sea salt. Once blended, whisk in the buttermilk. Sift flour and baking powder into the ricotta mixture and then stir with a whisk until blended.
In a separate large bowl, use an electric whisk to beat egg whites and sugar until stiff peaks form. Using a large silicone spatula, gently fold the egg white mixture through your pancake mixture in 2 batches.
Preheat a griddle pan over medium-low heat and melt some butter over griddle. Working in batches, ladle batter onto griddle and cook 3 pancakes at a time, adjusting heat as needed for 3 minutes per side or until pancakes puff and become golden brown.
Once cooked all the way through, transfer your pancakes onto a plate. Stir your orange segments into the hot orange-maple syrup. Spoon the syrup over your hot pancakes and serve immediately. Enjoy!
Pancakes with honey and redcurrants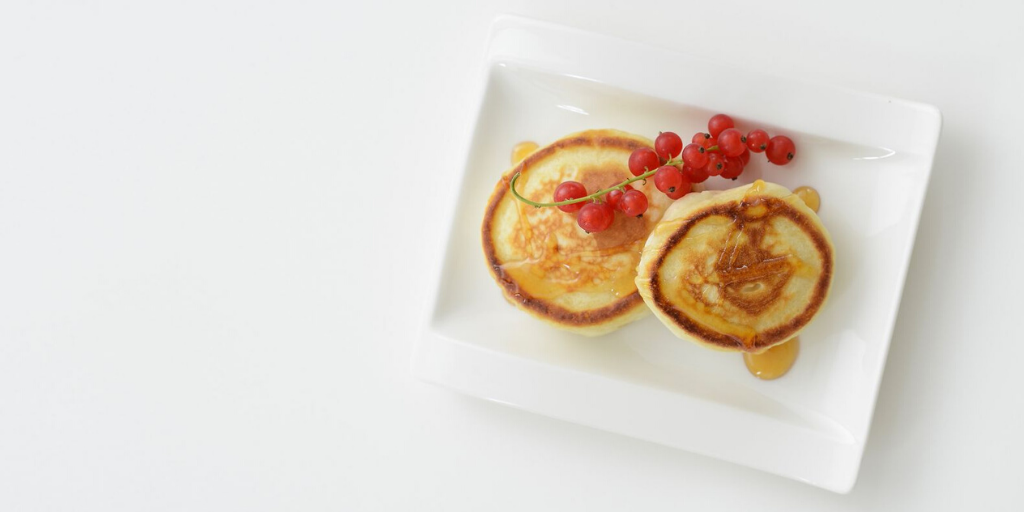 Ingredients:
240g of flour
15g of baking powder
40g of sugar
1 teaspoon of salt
60ml of vegetable oil
2 eggs
400ml of milk
1 teaspoon of clarified butter
4 teaspoons of honey
Redcurrants for garnishing
Preparing the pancakes:
Sieve your flour into a bowl. Mix with the baking powder, sugar and salt. Whisk your eggs and add into the bowl along with the oil and milk. Beat everything into a smooth batter with an electric whisk.
Place mixture in the fridge for 15-20 minutes.
Grease a frying pan with 1 teaspoon of clarified butter and heat for approximately 2 minutes on medium-high setting. When the oil is hot enough, turn down to a medium-low heat and add roughly 85ml of the batter (usually enough to fill a large ladle), allowing to spread evenly in the pan.
Cook the pancake until golden on eat side for 60-80 seconds and do the same with the remainder of the pancake mix.
Serve the pancakes with honey and redcurrants.
Fluffy pancakes with butter and fruits
Ingredients:
380g of flour
30g of baking powder
400ml of milk
8 large eggs (separate yolks and eggs)
60g of sugar
2g of sea salt
1 tablespoon of butter
Desired fruit (for topping)
Icing sugar (for topping)
Preparing the pancakes:
Sift the flour and baking powder. Mix together and set aside.
Ensure your eggs are separated. Whisk the milk and egg yolks for 1 minute using an electric whisk.
Add your sifted flour and baking powder gradually whilst whisking. Whisk on a higher speed until the texture is smooth, then set the mixture aside.
Get another bowl and whisk egg whites on a low speed until soft peaks form. Increase to a higher speed gradually while adding sugar and sea salt. Keep whisking until firm peaks form. Be careful not to overwhip the egg whites.
Gently fold 1/3 of the egg white mixture into the earlier mixture from step 3, before folding in the remaining egg white mixture. Be careful not to overfold.
Place a pan over medium heat for 1 minute and add 1 tablespoon of butter. Once melted add a scoop of the pancake mixture.
Flip the pancake when the underside turns brown. Depending on how much you scoop, the mixture will be ready in about 2 to 3 minutes. Repeat with the rest of your mixture.
Serve the pancakes with desired toppings. For this recipe fruit and icing sugar was used. Feel to use whatever you like such as Nutella, jam, lemon juice or make it savoury with eggs, ham and cheese!
For more delicious recipes take a look at the Bosch cookbook.
Keep an eye out for our upcoming cooking events! Meanwhile, you can visit our showroom on Thatcham Broadway and Caroline will be more than happy to answer any of your cooking and kitchen queries!