Bosch coffee machine with Home Connect: unparalleled variety and unique technology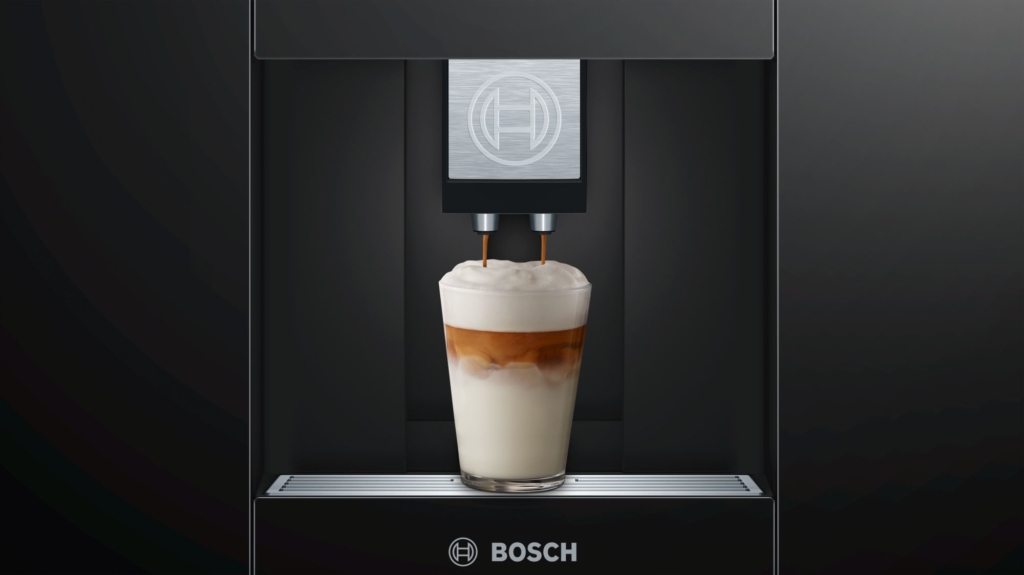 For most of us coffee is a must, a basic need just to help us function on the daily. If you often say "I can't do anything until I've had my morning coffee", then come and experience coffee making at Thatcham Kitchens. Your coffee experience should be easy, delicious and fun – from the making to the drinking. This is where Bosch's coffee machine with Home Connect comes in to play and if you love your technology gadgets and gizmos, you're going to want to keep on reading…
The ultimate kitchen gadget for coffee lovers
You may think that for successful coffee creations, you need years of experience, when in fact all you need is unique technology – the Bosch built-in Coffee Centre with Home Connect. With this top of the range coffee machine, you get your very own virtual barista, skilled at making delicious coffees from around the globe. With the Home Connect app you gain access to CoffeeWorld where you are able to create all different types of drinks at the touch of a button and don't worry – the basics are still on there!
Having the whole family round for a gathering? Use Home Connect's Coffee Playlist feature. You simply take everyone's orders through the app and the coffee machine does the hard work for you making the coffees, the perfect way to impress your guests and all you need to do is make sure there's a mug for the coffee to fall into!
Home Connect Coffee Centre highlights
Different coffees require the espresso shot to be heated at a different temperature to achieve the perfect result. sensoFlow does this automatically, providing delicious beverages again and again
Cappuccino: any coffee or milk specialty at the touch of a button – even two cups at the same time
AromaDouble Shot: extra-strong coffee without the bitterness thanks to two specialised grinding and brewing processes
Steam Blast: fully-automatic steam cleaning after every beverage takes complete care of the daily cleaning of the milk system
Coffee, your way
Replicating your perfect cup of coffee can be difficult. With a Bosch coffee machine and Home Connect, you can enjoy your coffee experience at home. Look forward to that morning coffee for the right reasons – not just for the caffeine kick! Sit back and let the machine take over – you're welcome.
As a Bosch 5* expert, we've even got (along with other Bosch appliances) a working version of the Coffee Centre at our showroom on Thatcham Broadway, so drop in and Caroline can make you a cuppa and show you first-hand all of the features mentioned. Call us on 01635 863853 or email info@thatchamkitchendesigns.co.uk for any questions.