Review of the Bosch FlexInduction Hobs Serie 8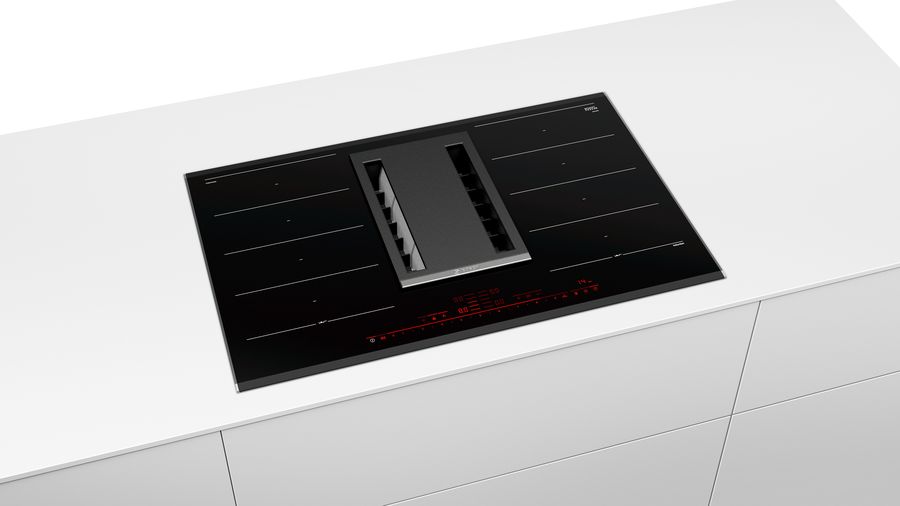 If you're looking for a streamlined finish to complete your kitchen, a Bosch FlexInduction hob from their Serie 8 range  is worth consideration, including the FlexInduction venting hob with a powerful integrated, venting hobs  remove the the need for a separate extractor and are a fantastic design feature for hobs on islands and peninsulars. The FlexInduction range of hobs have extra features up their sleeves too.
Say goodbye to the traditional extractor fan
Without a quality extractor fan, cooking smells can linger, but a traditional wall hung extractor will take up space and unless you want to make it a statement piece, it can encroach on the overall look of your kitchen – especially if you want your hob positioned on an island.
The FlexInduction hobs from Bosch combines hob and extractor in one unit; extracting steam and odours at their source to leave your kitchen smelling clean and fresh.
When two become one
The Serie 8 FlexInduction hobs have more innovative features, one of which is flexible  cooking zones. Most traditional hobs will have 4 zones (or rings as they used to be called). But what happens when you want to stir thicken up the gravy in the roasting dish (with a little heat), ensuring you take best advantage of all those delicious juices from your joint of meat? With the FlexInduction hob you can, at a touch of a button, combine two zones together to work as one, giving you optimum flexibility. The amount of usable surface on you hob will accommodate even the largest of pans.
FlexInduction highlights:
PerfectCook: the sensor which can be adjusted, prevents overcooking and boiling over by precise controlling the cooking temperature and with 17 stage control settings, you have precise heat control to meet your different cooking needs
PerfectFry: for perfect browning of roasted foods thanks to sensor control with 5 power levels. Say goodbye to overcooking and undercooking your favourite meals
PerfectAir sensor: automatic control of the hood settings for maximum extractor performance with minimal noise.
DirectSelect Premium: direct, simple selection of the desired cooking zone, power and additional functions
FlexInduction Zone:get more flexibility by combining the cooking zones into one big zone for placing small pots and large cookware
Watch this Bosch video to find out more about cooking zones
(Please note the induction hob shown is not the FlexInduction Serie 8)
Caroline's top tip: How to clean an induction hob
One job I think most of us don't enjoy is cleaning a hob! Stubborn spills can take a lot of elbow grease, but Caroline, one of the owners at Thatcham Kitchens, has a time-saving tip for all induction hob users out there.
All you need is an induction hob and either kitchen towel or a cotton tea towel.
Before you start cooking, place your kitchen towel or tea towel over your induction hob, ensuring the entire surface is covered. Then position your pots and pans on top, ready to cook. The Induction heat will still work and won't burn the towel. Any spills and stains will fall on your towel rather than the hob leaving your hob surface spill-free.  Once you've finished cooking, simply remove the towel – no mess and hassle!
Don't need a new kitchen? You can still buy your Bosch Kitchen appliances from us
Although we are a kitchen showroom, we're also a top Bosch retailer and can offer you the opportunity to buy Bosch kitchen appliances direct from us – with or without new kitchen units.
We offer competitive pricing all year round and the expertise you don't get from simply watching an online video or purchasing from a larger retailer.
Come and talk to the experts and ensure you get the best kitchen appliances for your needs.
And as a Bosch 5* expert, we've even got (along with other Bosch appliances) a working version of the FlexInduction hob at our showroom, so call in and Caroline can show you first-hand all of the features (including her top tip) to improve your cooking experience.