Smart kitchen storage ideas & kitchen inspiration
Are you contemplating a new kitchen design, looking for kitchen inspiration and wondering what the latest trends are for clever kitchen storage? From carousel pull-outs to universal hanging rails, our kitchen design showroom in Thatcham can give you practical ideas that will help keep your worktops clear and your cupboards tidy. Our kitchen shop, near Newbury, features Mereway Kitchens which have tonnes of savvy kitchen storage solutions. Our storage innovations will ensure you're organised in your cooking and dining space every day.
We've picked some of our favourite kitchen storage ideas to give you some design inspiration for your culinary living space.
Pull-Out Waste Bin
Save kitchen floor space and avoid the look of unsightly recycling and waste bins by having a handy pull-out drawer bin. Mereway Kitchens can provide bins with separate and removable recycling compartments as well as a bin for your general waste, all neatly tucked away in a drawer.
Carousel Cupboards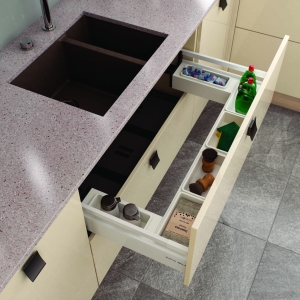 Get more use out of wasted space at the back of cupboards with this Cantilever Carousel. Say goodbye to blindly reaching for mixing bowls and Tupperware, with these adjustable swing out shelves. There's also an integrated soft stop, so you can eliminate any crashing or banging during your cooking prep.
Pull-Out Larder
Wow your guests with a pull-out larder which stores groceries from top to bottom in an organised fashion. Available in different heights and widths, this larder can be accessed from both sides. No item is forgotten about with everything in easy view each time you pull-out the larder.  You can fit an impressive amount in this larder – up to 100kg which is the equivalent of 100 bags of sugar.
Universal Hanging Rail
Utensil hook rails, foil roll holders, herb pot shelves, knife blocks and towel rails are all accessories that can be mounted to this convenient hanging rail in your kitchen. Keep your worktops and drawers uncluttered with this practical universal hanging rail.
Pull-Out Base Units
Tuck away your many spice jars, condiments, sauces, bottles and even tea towels with an intuitive pull-out base unit. Small spaces left after appliance installations can be utilised with this easy-access unit, fitting in a surprising amount of kitchen items. The pull-out function means that you can easily see and reach everything you need whilst you're cooking.
Vertical Swing Up Wall Unit
Make use of high cabinet space with a slick swing up wall unit. Leave no storage space unused with this smooth and easy to access elevated storage area.
To see some of these brilliant Mereway Kitchen storage concepts in action, visit our kitchen showroom in Thatcham, near Newbury where we'll be happy to show you around.