Kitchen design styles for 2018
Being in the market for a new kitchen is exciting and daunting at the same time. We completely understand that designing one of the most important living spaces in your home deserves some serious thought. Planning a new kitchen can be a big investment and requires some big decision making when it comes to determining your kitchen style. As kitchen design experts, we're here to give you kitchen ideas for 2018 and a little advice on how to choose which style of kitchen to go for when making that crucial choice.
Inspiration
There are so many helpful tools you can use to get inspired when choosing your new kitchen style. Use as many sources as you can to look at different kitchens and designs styles and decide what you do and don't like. Use the following resources to collect ideas and brainstorm:
Google images
Kitchen showrooms
Kitchen design brochures
Property websites
Home and lifestyle magazines
Friends and families houses
Home design TV programmes
Style ideas
There are many roads you can go down when it comes to styling your new kitchen. Country, modern, retro, Scandinavian, urban or a mix of these – which will suit your home and your personality? Don't get too hung up on what's on trend or in fashion as these are changing all the time – choose what you like and what  will suit your kitchen lifestyle! We've gathered a few of our favourite styles below to help with your planning. You might like one particular style, or be inspired by little bits of all of them. You can come and experience these kitchens in real life at our kitchen showroom in Thatcham, near Newbury, Berkshire, open Monday – Saturday.
Choose a beautiful mix of aqua turquoise, wood and white to achieve this stylish country kitchen look. If kitchen storage is near the top of your list, this could be the kitchen for you with plenty of elegant pantry, cupboard, dresser and shelf space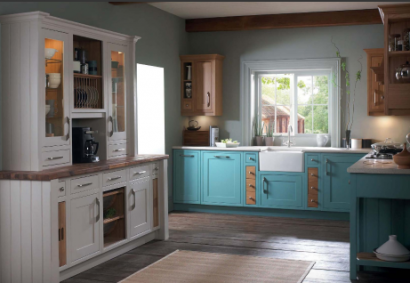 Go retro modern with this impressive dark wood and gloss kitchen. This would suit any home, but perhaps lend itself best to a more contemporary building or apartment. With lots of preparation room plus an island, you'll never run out of side space.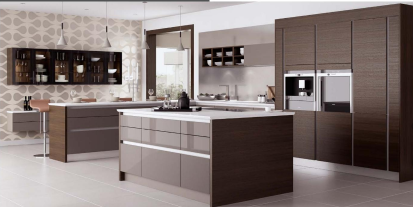 If you're feeling the scandi style then incorporate some Danish looks into your kitchen design. Clean crisp whites contrasting with light wood is a match made in Hygge heaven. Clever storage means you can keep your sides clear and impress your guests with this stylish kitchen.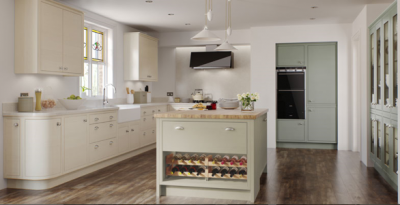 Designed with any style of building in mind, this kitchen would suit a country home, a more suburban space or a large city apartment. Trendy sage, with chic glossy black appliances and a touch of wood and white, this beautifully skylit kitchen will be the envy of your friends. Storage galore and top of the range cooking appliances makes this kitchen a cut above the rest.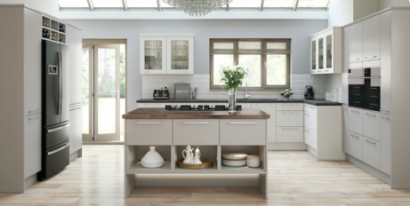 Come and talk to us about your new kitchen in person and get expert advice on kitchen design at our Thatcham kitchen shop near Newbury, Berkshire.