Can you have a hob on a kitchen island?
There are many benefits to having your hob on your kitchen island, such as being able to look outside or into another room while you cook, as well as having plentiful space around your cooker top to prepare your dishes. But what about the extractor fan, and can an induction hob work on a kitchen island – aesthetically and practically?
The answer is yes! If you're looking for any Bosch kitchen appliances in Berkshire, look no further as we are a Bosch dealer. Our partners at Bosch have a very clever solution that's called the Bosch induction venting cook hob (PXX875D34E), and you can see it in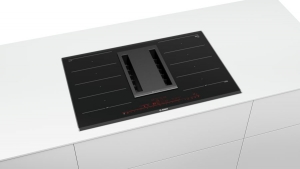 action our kitchen showroom in Thatcham, near Newbury. We call it our live working kitchen, where you will be amazed by watching the Bosch venting cook hob effortlessly extracting steam and odours while it cooks. There's no need to worry about installing a cumbersome and ugly extractor fan above your hob anymore – this smart induction hob with an integrated ventilation module is a combination of excellent ventilation and the best induction cooking technology.
Induction hob and extraction features
This induction hob boasts many impressive features, giving you perfect cooking results on every occasion. The brilliant Bosch cooker has a PerfectCook sensor which can be adjusted to prevent overcooking and overboiling as it precisely controls the cooking temperature. We love the PerfectFry option, which will brown your steaks and roasted foods to perfection. You can also combine all the cooking hobs into one large cooking zone, giving you the opportunity to place lots of small pots or much larger cookware on to the hob. The extractor system is controlled automatically and is quiet and smooth in its performance. Say goodbye to rising steam that fills your kitchen with odours and moisture when you cook, this intelligent cooker top extractor system simply extracts it all downwards with its downdraft functionality.
Cleaning the hob
Cleaning the Bosch integrated hob extractor is stress-free. All extraction parts are easy to clean and can be placed in the dishwasher. The raised air intake grill means that overflowing liquids can't get in to the module, and even if they do they're simply diverted into a reservoir. And where organisation is concerned, the unit's compact design leaves loads of space for extra storage of pots, pans and dishes.
Where can you see the Bosch InductionAir venting cook hob?
We think that this is the ultimate hob solution for a kitchen island or on any worktop in fact – but don't just take our word for it here, come and see it in action at our kitchen shop in Thatcham.
Interested in viewing Bosch kitchen appliances in Berkshire? Call us on 01635 863853 or simply drop by our kitchen showroom in Thatcham.