Best kitchen appliances for dinner party hosts
If you're a keen entertainer and enjoy having friends over for dinner parties, we're here to give you some tips on the best kitchen appliances for dinner party hosts.
You need efficiency, speed and cooking perfection when you're entertaining. Spending time chatting with your guests is how you picture your dinner party. In reality, are you actually spending the majority of the time in the kitchen preparing and cooking your meal? Worrying the temperature of the oven is OK to cook all your courses, flustering to keep things warm, and by the end of the evening you have just about said hello to your guests and not much else? The great news is, we can change this for you.
Enjoyable and effortless cooking
At Thatcham Kitchens, we can show you our top of the range ovens, cookers, dishwashers and other kitchen appliances in action at our kitchen showroom near Newbury, Berkshire. We are 5* Bosch experts, and we believe that they manufacture some of the most intelligent, high-tech, user friendly and stylish kitchen appliances. Products that will wow your friends, make your dinner party a breeze, and more importantly, enable you to have more fun when entertaining.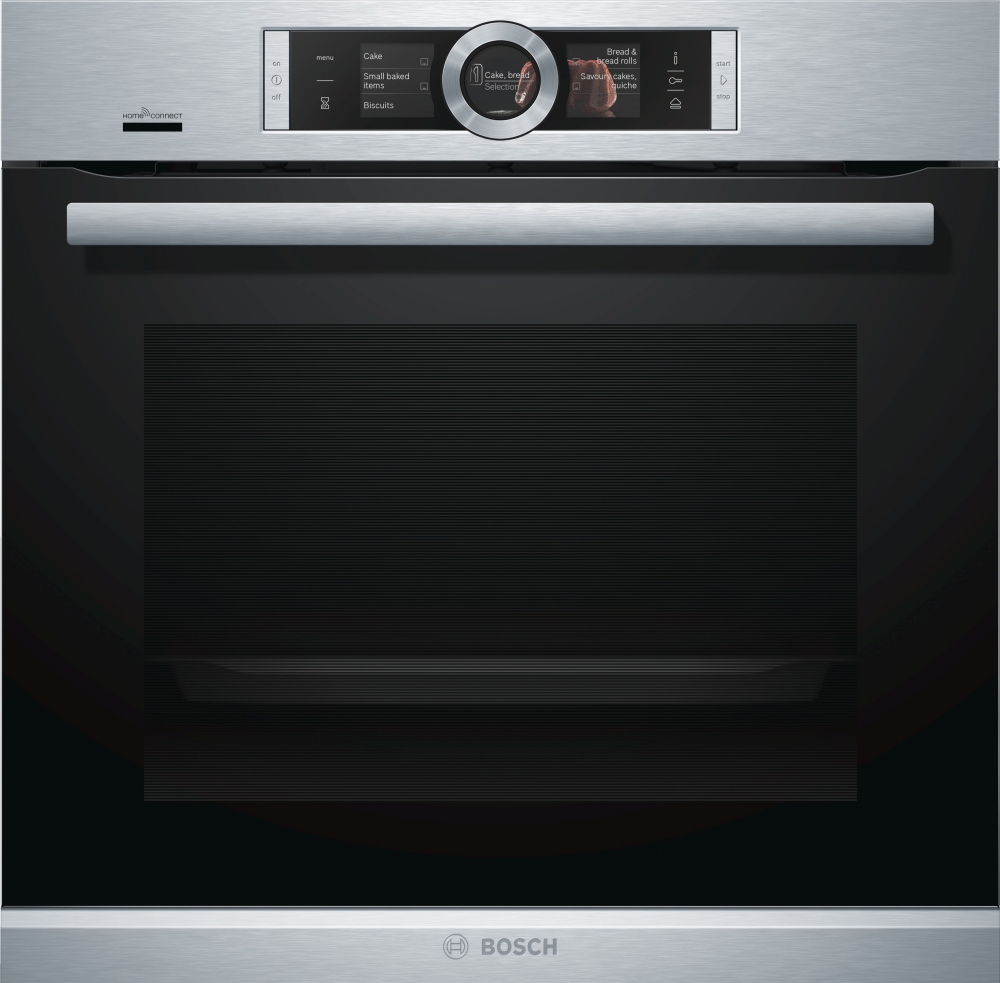 How about the Bosch steam assist wifi ovens. For a start, you can control your oven from your smartphone or device, so you don't actually need to be in the kitchen to turn your oven up or down, or on or off. It's just a press of a button on your phone or iPad while you're sitting on the sofa enjoying an aperitif with your friends.
With the Bosch Series 8 steamer oven, you can prepare an entire menu using up to three levels of the oven at the same time. For example Salmon with asparagus and rosemary potatoes – you can cook them all together and everything will turn out perfectly. You could also cook a dessert at the same time, because of the air moisture in the oven, there's no intermingling of flavours. So you could put a whole meal in the oven before your guests arrive, with no further work to do apart from sit down and enjoy the tasty meal with your friends.
No more smells
Some dinner party dishes can taste exquisite on your plate, but occasionally their journey to get there did not smell quite as lovely as they taste. You no longer need to light 50 scented candles to disguise the smell of frying fish or vegetables cooking as your guests arrive. The PXX875D34E unit from Bosch is a stylish-looking induction cooktop with an integrated ventilation module, so it means no more noisy and ugly extractor hoods. The extraction is effective and quiet and has maximum extractor performance with minimal noise. So you don't need to worry about offending your guests with interesting cooking aromas as they arrive.
Cleaning up
The last thing you want after a delicious meal is to have to talk over the sound of a noisy dishwasher. We can supply and fit a range of Bosch dishwashers with the latest technology, including ecosilence. The SuperSilence Plus mode is as quiet as 41 decibels. These superior dishwashers have the quiet mark stamp of approval so that your dishwasher is discreet. With Zeolith drying technology and an external time light and cycle status projected on the floor, you'll know exactly how long your dishwasher has left to clean and perfectly dry. Bosch PerfectDry dishwashers use 3D airflow which means even your plastic dishes and containers come out completely dry. There's a also a protective 40°C program for glassware that ensures your glasses come out clean and dry, with no damage.
Thatcham Kitchen customer, Ann Merrick says:  "Before I purchased my Bosch appliances from Thatcham Kitchens, I'd stopped cooking a roast because my old oven couldn't get it right.   With my new Bosch oven I cook the perfect roast, whilst still having time to socialise with my guests. Using a meat probe, my beef joint is guaranteed to be medium rare. – just how I like it.  The roast potatoes can cook in the same roasting tin as the meat and I control everything from phone rather than being stuck in the kitchen. When the evening is over, I simply switch the oven to self-clean and hey presto, I have a clean oven with zero fuss. Definitely one of the best purchases I have made."
See these Bosch kitchen appliances in action
If you're interested in upgrading to some of the best cooking appliances available, or perhaps you already the owner  of a Bosch oven or hob, but need a helping hand to use them to their maximum potential, you're invited to our free cookery event on Saturday 21st April 10.30am – 3pm. You can drop in anytime and see our Bosch home economist prepare some amazing recipes using our premium kitchen appliances.  There'll be recipe ideas, giveaways and lots more. The event is at our kitchen showroom on the Broadway in Thatcham, Berkshire. Register for the event here.