New Home, New Kitchen: Kitchen design ideas for your new home in 2018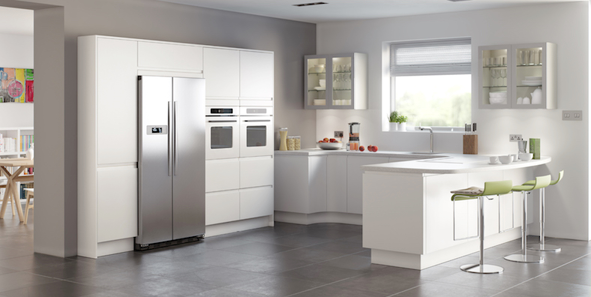 A new year is nearly upon us, and you may have plans to move to a new home in 2018, or simply revitalise your existing house.
We think the kitchen is where the heart of a home is. It's where we enjoy spending lots of time – eating, cooking, entertaining and just generally hanging out. So does the kitchen deserve the top spot when planning to refurbish a new or old home? Absolutely!
If you're feeling a bit foggy for kitchen design ideas for 2018, then we're here to give you some inspiration. From country kitchens to modern city living kitchens, we're not short on design concepts.
To extend or not to extend
Firstly, decide on your space and living area. Are you happy with the square footage, or would you like to extend the size of your existing kitchen? Can you use a neighbouring room to add to your kitchen space? If you do wish to embark on an extension there are some important factors to consider such as planning permission, builders costs. Think about how you would create an open plan space, if you would like bi fold doors and if your renovations comply with the building regulations (which relate to structural stability of foundations, windows, doors and roof structures.
Real Homes Magazine has some sound advice about extending your property, including where to go for planning information, architect and engineer links and building materials guidance. Read about it here.
Country kitchens
It's lovely to have a kitchen to suit your surroundings if you live in a rural area, but these country kitchen designs can also work in more urbanised areas, depending on the property type.
We're a big fan of this country style kitchen from Mereway, complete with beautiful rustic flooring, a handy island with a splash of dainty blue, aga style cooking areas and hanging pots and pans ceiling rack. A traditional feel, with top of the range cooking functionality.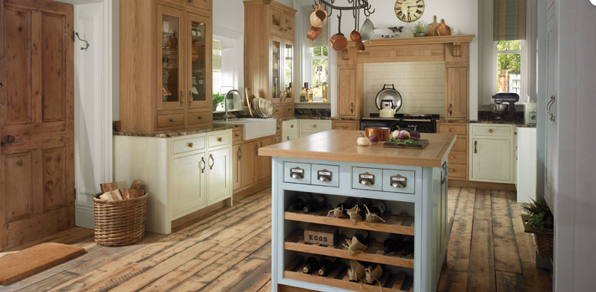 Traditional modern kitchen styles can also work well in a countryside property as well as a suburban home. This impressive modern classic kitchen design is one that would impress any guest.  With clever storage units, wine rack and elite cooking appliances, you will rarely want to leave this sophisticated kitchen space. Find about more details about the storage options for this Mereway English revival kitchen here.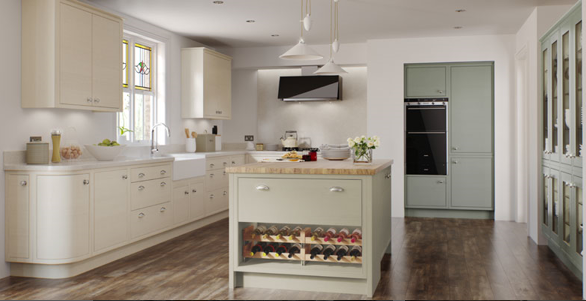 City living style kitchens
Apartment or townhouse, this chic kitchen design will knock the socks off your visiting friends and family. With a large island you'll have adequate prepping and cooking space, and you have the option of having an integrated hob with cooktop extraction so no need for an unsightly extraction fan. With trendy sage colours mixed with chrome handles, wooden top and butler sink, you'll be spending a lot of hours enjoying this cooking, dining and socialising space.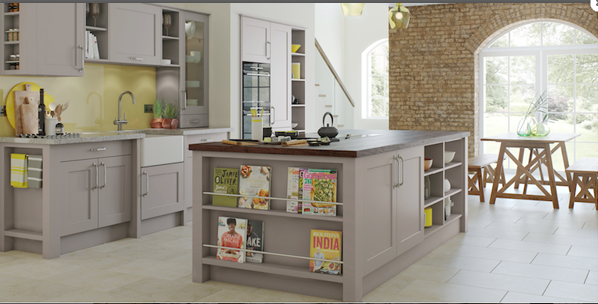 With this sleek and glossy modern kitchen design, you 'll feel fresh and innovative when you're cooking and dining. Clean and crisp white units and high-tech appliances mean that this kitchen will be a joy to cook and dine in. A breakfast bar gives a cosmopolitan look, and the whites and silver will keep you feel light and bright in your cooking even on dark days.
Take a read of our Open Living Kitchen Trends
As per our previous post, 'Open Living Kitchen Trends 2018' you should consider warmer shades if you're designing a large open living area as white can feel cold and stark in larger areas; or simply mix with some warmer shades and accessories.
Our kitchen design ideas don't stop here, visit our kitchen showroom in Thatcham near Newbury for loads more inspiration and advice for your new kitchen; we're a five star expert for Bosch appliances too.